Three weeks ago, I wrote about stocking up for staying at home. I had gone shopping on March 13, after being away for over a week. Because many grocery shelves were bare, I had to make some substitutions and compromises and to shop at three different stores in Columbus to get items that would provide weeks of healthy meals. I focused on getting fresh and frozen essentials: whole grains (including low-sugar cereals), beans, fruits and vegetables, fish, nuts, healthy fats, and spices and condiments to make is all taste great. My goal was to stretch the $180 purchase (below) to 120 meals (2 people, 3 meals/day for 20 days).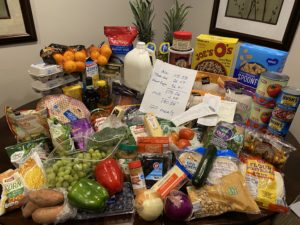 What did my meals consist of?
To save money, I don't actually use many recipes.  Instead, I have go-to combinations of foods and flavors. The concept is similar to choosing the ingredients you want in your rice bowl or burrito bowl at restaurants like Freshii, CoreLife or Chipotle. I follow recommendations from MyPlate.gov: know how much you need, take time to enjoy smaller amounts of food (eat less!), choose quality dairy foods, drink water instead of sweetened beverages, and almost always make half your plate fruits and vegetables.
The lists below reveal what I ate throughout the 20 days. Similar meals were provided for the second person in my home. Together, we ate 40 breakfasts, 40 lunches, and 40 dinners. The photos all show meals from the third week.
BREAKFASTS – Every breakfast included milk, coffee, and about a ½ cup of fruit (fresh or frozen).
Homemade granola with pecans, milk, fruit, and coffee (6)
Other cereal, milk, fruit, and coffee (9)
Ham and eggs, toast or muffin, fruit, milk & coffee (4)
French toast, ham, fruit, milk and coffee – (1)
LUNCHES – Every lunch included an entrée with protein, 1-2 fruit and vegetable servings, and water. My lunch entrées were:
Ham and cheese on Italian bread (6)
Ham and cheese on bagel (5)
Vegetarian chili with cheese (3)
Pasta salad with pepperoni, vegetables, and fresh Parmesan (3)
Peanut butter on whole wheat (2)
Bratwurst (1)
DINNERS – Every dinner included an entrée with protein, a grain (basmati rice, quinoa, tortilla, pasta,  or bread), usually 2 servings of vegetables, and water.  Most dinners also included a small amount of fruit.
Chicken or bean burrito with rice and/or tortillas (3)
Grilled salmon (2)
Vegetable or chicken w/ vegetables stir fry with General Tso's sauce (2)
Vegetable or chicken w/ vegetables Tikka Masala (2)
Vegetable or chicken w/ vegetables Korma (Indian creamy, coconut sauce) (2)
Pasta with marinara, pepperoni, fresh Parmesan and garlic toast (2)
Bratwurst on toast with grilled peppers and onions (2)
Vegetable chili with cornbread and cheese (2)
Red lentil and tomato curry with cashews (2)
Quinoa Hash (1)
What does it take to eat low-cost meals?
Practice – My household has been doing this for over 2 years. By strictly limiting our spending, we have figured out which products are a good value for us and which aren't. Recognize that it may not be easy at first.
Discipline – Everyone in the household must be committed to making the food last and be willing to do without when something runs out.  No doubt, managing food supplies is a lot more difficult with kids and large households. It might help to serve plated meals, rather than offering large serving dishes.  Also, shifting to a lower grocery budget meant giving up some foods all together (which I did). Pacing consumption takes practice, and it is especially important when purchasing groceries that need to last for two or three weeks.
Budgeting – Tracking per meal costs involves estimating how much food you'll need for the number of days or weeks you are shopping for. Then choose the amount you can spend per meal. Admittedly, spending under $2 per meal is extreme—but clearly possible! Choose $2 or 3 per meal, or another amount that works for you. Don't shop again until you consume the number of meals you shopped for previously.
A milk run – I bought milk halfway through the 20 days.
Why I love the $1.50/meal budget
Maintaining a healthy weight – It seems logical that if you eat less, then you will spend less. The beauty of committing to per meal spending limits that fit your budget is that that you may actually eat better food and consume fewer calories if you start by spending less. Some people have suggested that "COVID-19" also refers to Americans' potential weight gain during the stay at home order. Portion size matters. In my household, neither of us gained a single pound during this 3-week period.
Less impulse buying – I use a spreadsheet populated with the prices of items I often buy to make my shopping list. It gives me a close estimate of how much I'll spend. Selecting an additional item in the store often means taking something else off my list.
Decreased snacking – Focusing on budget targets provides motivation to not use up foods too quickly, which helps me avoid stress eating, snacking out of boredom, etc.
Eating out occasionally –  Everyone enjoys eating out (or getting takeout)! Focusing on budget targets provides motivation to avoid overspending by eating out too much. When I eat out, it pushes out the date that I will consume the number of meals shopped for at home.
Keeping Costs Down When Stocking Up
Times will be tough for many in the coming months. Budgets will be tighter than ever and stress levels will be high for many Americans. Food prices may rise, making it even more important to stretch families' food dollars.
Part of eating healthy foods on a budget includes limiting or avoiding certain foods altogether. In my budget, many processed foods are viewed as "too expensive" for the poor nutritional value they provide (convenience foods, frozen entrees, hot dogs, chips, crackers, and sweetened beverages).
I went shopping again on April 3 and here is what I bought.  This will last us (2 adults) over 20 days for a total of 120 meals! How far will your next grocery purchase stretch?