How many vegetables have you eaten today?
Myplate recommends that adults eat at least 1 ½-2 cups of fruit and 2-3 cups of vegetables a day, but according to the Centers for Disease Control and Prevention, only 1 out of 10 adults meet those recommendations. Clearly, it can be challenging to incorporate fruits and vegetables into our diets!

Last month, a guest author on our blog wrote about how you can use a spiralizer to turn vegetables into ribbons or noodles for a fun and easy way to eat more vegetables. Another kitchen tool that can make veggies more easy and fun to prepare and eat is a ricer. You can use a ricer on potatoes or sweet potatoes to make mashed potatoes, or on hard veggies like carrots, broccoli, cauliflower, winter squash or beets to create rice that you can use in a pilaf, stir-fry or any other dish that calls for rice.
Don't have a ricer at home? No worries! Below are three other options for making veggie rice with tools you may already have.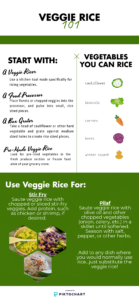 Food Processor Veggie Rice: Place florets or chopped vegetables into the food processor and pulse into small, even, rice-sized pieces.
Box Grater Veggie Rice: Grate your vegetable of choice against the medium sized holes on the grater to create small, even rice-sized pieces.
Pre-made Veggie Rice: Look for pre-riced vegetables in the fresh produce section or frozen food aisle of your grocery store.
Need a recipe or some veggie rice serving suggestions to get started? Try this "Simple Cauliflower Rice" recipe adapted from Nutrition Stripped, and visit the recipe page to see suggested flavor variations.
Ingredients
1 head cauliflower, made into "rice" utilizing desired method from above
2 tablespoons oil of choice (olive, vegetable, coconut, etc.)
½ cup sweet onion, diced
1 teaspoon salt
1 teaspoon pepper
 Directions
In a sauté pan, cook the cauliflower with oil and onion for about 5-7 minutes until softened.
Add the salt and pepper and mix.
Serve alone, or substitute for rice in your favorite dish.(As a side, this recipe yields 4-6 servings).