Summer is filled with fresh vegetables and fruits.  Be venturesome and use herbs to try some diff
erent flavors!  Not only will the kitchen smell good, but it will give a different taste to your food.  Try adding:
dill or thyme to fresh green beans
oregano or marjoram to broccoli
garlic, onion, pepper and basil to fresh broccoli cooked in a little olive oil
basil or rosemary to carrots
Not only do herbs provide flavor, they contain lots of nutrients.  Herbs contain a form of phytonutrients called polyphenols, which may have anti-cancer properties, anti-inflammatory properties, and other health benefits.  Although you may only use a small amount of an herb in your dish, you are increasing your intake of polyphenols and phytonutrients.
The flavor of fresh herbs diminishes quickly.  Fresh herbs will generally last less than a week.  For most fresh herbs, wrap them in a paper towel and place in an open plastic bag in the refrigerator.  Herbs like parsley and dill can be stored upright with the stems in a glass jar of water covered by a loose plastic bag.  You need to change the water every day.  For long-term storage, follow food preservation methods for drying or freezing herbs.
Determining if your dried herbs are still flavorful usually can be done by rubbing them between your fingers and smelling.  If they lack aroma then it is time to replace them.  When you buy dried herbs, write the date on the container.  Store them in tightly closed containers away from heat, light and moisture.  A general rule of thumb (from June 2017 edition of the Tufts University Health & Nutrition Letter) is:
Herbs (such as thyme): Keep 1-3 years
Seasoning blends (such as Italian seasoning): Keep 1-2 years
When do you add fresh or dried herbs when cooking food?  You can add sturdy herbs like thyme, rosemary and oregano at the beginning of cooking.  However, wait until the end of cooking to add delicate herbs like parsley, dill, basil and cilantro. If substituting fresh herbs for dried or ground herbs, remember that dried herbs are about three times stronger than fresh herbs.  For example, 1 Tablespoon of fresh cut herbs is equivalent to ¼ – ½ teaspoon ground dried herbs.
How will you use herbs in your kitchen?  Leave your idea in the comment section below. Here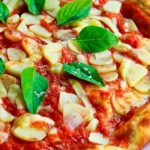 are three ideas to get you started:
Treat yourself and try some oregano on summer squash or add some basil. Basil is delicious on pizza!
Add some fresh chives to salads.
Flavor fruits using herbs. Try adding fresh basil to peaches, mint to strawberries or fruit salad, and rosemary to lemon-flavored baked goods.
Experiment a little and enjoy flavorful dishes!
Author:  Pat Brinkman, Family and Consumer Sciences Educator, Ohio State University Extension
Reviewer: Jenny Lobb, Family and Consumer Sciences Educator, Ohio State University Extension
References: 
Fifner, J. (2016). Preserving Herbs: Freezing and Drying, Ohio State University Extension.  Available at https://ohioline.osu.edu/factsheet/hyg-5360
Gerald J. and Dorothy R. Friedman School of Nutrition Science and Policy, Tufts University.  (June, 2017). Maximizing Flavor with Herbs and Spices, Health & Nutrition Letter.  Available with subscription at http://www.nutritionletter.tufts.edu/issues/13_6/special-reports/Maximizing-Flavor-with-Herbs-and-Spices_2166-1.html
Remley, D., Goard, L. and Ralston, R. (2015). Farm to Health: Maximizing Nutrients and Phytonutrients in Ohio Produce, Ohio State University Extension.  Available at https://ohioline.osu.edu/factsheet/HYG-5581
Shertzer, J.K. (2010).  Selecting, Storing, and Using Fresh Herbs, Ohio State University Extension.  Available at https://ohioline.osu.edu/factsheet/HYG-5520