Research has shown that there is a downside to living and working with too much clutter. It can cause emotional stress, conflict between household members, and distraction. Clutter can waste time and money. It can affect indoor air quality and increase accidental falls and trip hazards!
On a positive note, there is also research that some clutter can increase creativity.  How is your quality of life in relation to clutter? The Clutter Quality of Life Scale is an online assessment that asks 18 questions about your attitude, emotions, and experiences related to clutter.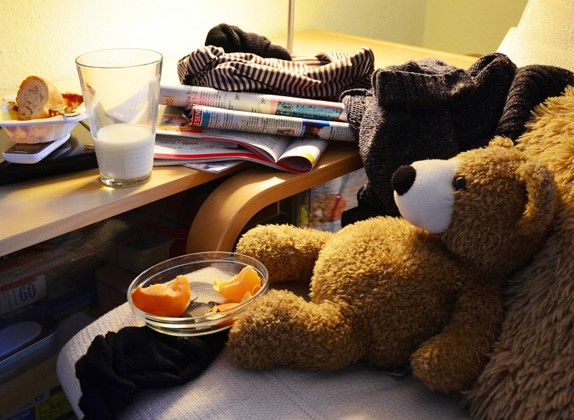 Ready to say "good-by and good riddance" to your clutter? Be realistic about your goals and the amount of time it will take. Decluttering a basement with twenty years of collections is different than decluttering the bathroom closet. Be realistic about broken items and if you really will get them repaired. Where to start? Decide on a space such as a whole room or even a single drawer. Consider working on a theme, like decluttering all toys, holiday decorations, tools, or cleaning supplies.
Take action to eliminate clutter. Make a decision for every item. Six common options are to keep, share, discard, sell, return or the very last option, to postpone the decision. Don't let your uncertainly slow your progress but don't let postponing a decision become a habit. For those items where you really do not know what to do, check out the questions on the clutter emergency card.
Returning items like library books might seem obvious but are there other things that need to be returned? Do you have an unofficial "lost and found" with items left by guests? Do you have childhood items from adult children that could be returned to them? Do you have tools, dishes, or other miscellaneous items to return to the owner? Do you have new items that can and need to be returned to a store?
Sharing items with others might include sharing a sentimental family piece such as photos or furniture. Are there loved ones who would especially appreciate specific items? Sharing other items might include a general donation to a thrift store or a more specific donation such as old towels to the animal shelter.
Discard unusable items due to stains or broken or missing pieces. This may require researching local options for trash or recycling. Be intentional about finding the correct disposal for items such as old electronics, paint, tires, or other items that may not be accepted in a traditional trash pick-up. Shred any old papers with personal information. One other option for broken items is to upcycle them into a new item. Only choose this option if you will finish an upcycle project or you know an artist who will use the items. For example, old t-shirts for a new quilt, old tools for new garden art or old furniture updated with fresh paint.
Common ways to sell new or gently used items include a garage sale or yard sale, social media sale sites, or post an advertisement in a high traffic area.
For all items you will keep, there are two major steps. First, decide where that item belongs. Some call it a "home" for every item. In my house, we call it a "parking spot". When that item is not in use, where does it need to be parked? Next, after saying good-bye to the clutter, it is important to maintain that space. While taking all the steps to say "good-bye and good riddance" to your clutter takes some time and effort, hopefully, the action of removing the clutter will save you time, effort, and added stress.
Coming Soon. To watch a thirty-minute, "Clutter Free Living" webinar, please visit the summer 2020 RESTART Ohio: Back to Healthy Recordings.