In the midst of chaos and busy-ness that often surround the holidays, how do you find your calm? How can you go to that place where you feel at peace even in the midst of a "storm" of activity?
Numerous research articles, including several by Dr. Maryanna Klatt of Ohio State University and one published by the American Association of Nurse Practitioners in 2013, described the effectiveness of mindfulness in improving physical and mental health, reducing stress and anxiety. Mindfulness can be described as conscious attention to the present moment, without judgment.
Take 5. Take 5 minutes (or 10 if you can) at the start and end of every day (and as needed during the day) for a special quiet time. Close your eyes, breathe, quiet your mind from the endless chatter in your mind and the to-do lists. Just be. As the swirl of activity flows around you, imagine you are grounded (wholly present) in your body and mind.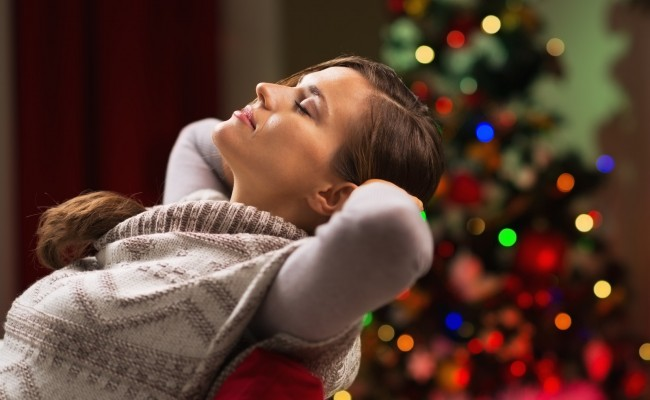 Breathe slowly, deeply. Focus on each breath as it fills your chest and abdomen. Notice the sensations in your body as you breathe. Inhale through your nose, exhale through your mouth. When you exhale, do it as slowly as you can through your mouth. Make a tiny opening with your lips and let the air escape slowly. The slower the exhale, the deeper the inhale. Slower, deeper breathing can be a metaphor for slower, deeper living.
Quiet Your Mind. Our minds sometimes race with endless chatter and critical judgments of ourselves and others, especially when we are stressed and busy. You can quiet your mind by focusing on your breathing. As you breathe, let go of any critical thoughts. Just because we think something, it doesn't mean it is true. Practice self-compassion by dismissing your inner critic. You may also be fighting the urge to give attention to the running task list in your mind. You can write those tasks down in a few minutes, but this time is for you. Whenever you feel distracted by your thoughts, turn your attention back to your breathing.
Just Be. Do you ever have so much on your mind that your mind is several places or hours beyond where your body is at that present moment? When I catch myself doing that, I take a cleansing breath and just try to "be where I am." I try to focus on that activity, those people I'm with, and let the to-do lists and stress of what's next fade away. Let your mind and body come back together in the present. We are human beings, not human doings. Be present, where you are, fully taking in the sensations and sounds in your surroundings.
You can be "mindful" in just about anything you do. The OSU Wexner Medical Center has short audio recordings describing how to practice mindfulness while breathing, thinking, eating, walking, sitting, etc. Click here for more information on how to practice mindfulness.
I am often amazed at how much more clear my mind is when I practice mindfulness. As you move through the holidays this year, I hope you can find your calm so you can fully enjoy all the season brings.