Ellen Swallow Richards was born on December 3, 1842 and is known for her leadership in the field of Family & Consumer Sciences and Family Life Education, including founding the American Association of Family & Consumer Sciences (AAFCS), originally named American Home Economics Association. Although she was born in the 1800s, Ellen's research, work and passion laid a foundation for many examples of healthy living situations that we enjoy today.
Ellen Swallow (Richards) graduated from Vassar College with a Bachelor of Science degree in 1870 and then became the first female student to attend Massachusetts Institute of Technology (MIT). She became an instructor at MIT and is recognized as the most prominent female American chemist of the 19th century. She was committed to using science to improve living conditions for families especially on the topics of nutrition, clothing, physical activity and sanitation. Her research on water quality helped Massachusetts create the first state water quality standards in the United States and the first modern municipal sewage treatment plant. She was also a leader in establishing the nation's first school lunch program in Boston in 1884.
December 3rd, the date of Ellen's birthday was chosen by AAFCS to celebrate the second annual Family and Consumer Sciences Day. Family & Consumer Sciences Day calls attention to something simple families can do to be physically, mentally, and financially healthier—prepare and eat a nutritious meal together. Are you dining in?
1. Complete the "I'm dining in", simple sign-up. Add your name, location and who you are signing up for: family, class, community group or business.
2. Check out interactive map to see who else is "Dining In" near you. I was happy to recognize two names in my county. One is a local writer and the other is a FCS teacher.
3. Promote Family & Consumer Sciences Day and "Dining In" to your friends, family and colleagues. Share your favorite easy recipe! Our family will probably keep the menu simple with soup, salad and rolls.
4. Prepare and eat a healthy meal with your family on December 3rd and share a photo on your social media sites. Use #FCSday and #healthyfamselfie on Facebook, Twitter and Instagram.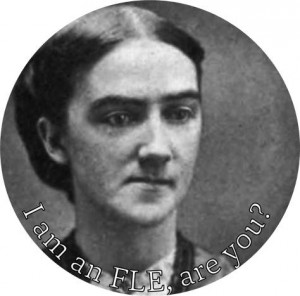 Remember, "Dine In" is designed to be simple! Make the meal easy and fun. Thank you Ellen Swallow Richards: You have reminded our modern families that science is valuable, history is fascinating and family wellness is meaningful.