As February begins, we're settling into the new year, and though we are seeing Valentine-themed messages and products in the stores, there's another event approaching that we heavily associate with this time of the year: The Super Bowl. For those who don't enjoy football, the food is the main attraction of Super Bowl Sunday. For many of us who are trying to make better choices about what and how much we eat, this can be a challenge!
Per the U.S. Department of Agriculture, "Super Bowl Sunday is America's second largest food consumption day – right after Thanksgiving." The World Food Program USA states Americans will consume approximately 300 million gallons of beer, 28 million pounds of chips, and 1.42 billion chicken wings on Super Bowl Sunday. Super Bowl snacks such as chips, dips, nachos, and beer have large amounts of salt, fat, and calories, so how can we enjoy the food while still taking care of ourselves?
Maintain a Normal Meal Schedule: Ensure you eat breakfast and lunch at the times you typically eat to prevent overeating when it is time to enjoy your Super Bowl snacks.
Work in some Activity: Take a walk or throw the football with your loved ones before the big game.
Use Smaller Serving Dishes and Plates: A study published in the Journal of the American Medical Association found that study participants consumed 56% less calories during the Super Bowl when they were served snacks in medium-sized bowls versus participants who were served snacks in larger serving bowls.
Serve Fruits and Vegetables: Serve trays of assorted fruits and vegetables for guests to fill up on before serving more calorically dense foods such as chicken wings and pizza.
Limit Alcohol Consumption: Go easy on alcoholic beverages, consuming water in between drinks, or enjoying a fun and tasty mocktail, like this simple juice spritzer from the Food Revolution Network:
Ingredients
1 cup fruit juice (freshly squeezed or juiced)
1 cup sparkling mineral water (unflavored and unsweetened)
ice (for serving)
citrus wedges (optional) orange, lemon or lime
Instructions
In a small pitcher, combine juice and mineral water and stir to combine.
Serve in individual glasses over ice.
Garnish with organic orange, lemon, or lime wedge if desired.
Try out some other healthy recipes such as Spinach Artichoke Dip or Pico de Gallo with Chile-Lime Tortilla Chips (see recipes below).
Spinach Artichoke Dip
Ingredients
10 oz frozen spinach, defrosted and liquid squeezed out
1 tbsp extra virgin olive oil
1/2 tsp garlic powder
1 small onions, small dice
2 clove garlic, finely chopped
1 1/2 cup artichokes hearts, coarsely chopped
2 tsp kosher salt
2 tsp black pepper
1/4 tsp cayenne pepper
2 tbsp lemon juice
2 cup plain nonfat Greek yogurt
Instructions
Heat the olive oil in a straight-sided skillet over medium heat. Add the onions and cook until softened, about 4 to 5 minutes. Add garlic and cook until fragrant, about 1 minute more.
Add the artichokes, salt, pepper and cayenne and cook until heated through, about 2 to 3 minutes.
Add the spinach and lemon juice, stir to combine, and cook until heated through, about 2 to 3 minutes. Transfer the mixture to a large bowl to cool.
Stir in the yogurt and serve with cut vegetables, whole wheat crackers or pita chips.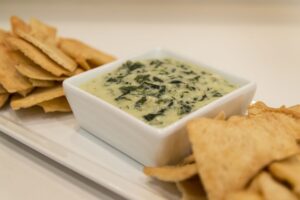 Pico De Gallo
Ingredients
3 cup diced ripe tomatoes, (3-4 medium)
1 cup, chopped finely chopped red onion
1 cup chopped fresh cilantro
1 jalapeño peppers
1 lime
1 tsp sugar
1/2 tsp salt
* Freshly ground pepper, to taste
Instructions
Combine tomatoes, onion, cilantro, jalapeño to taste, lime zest and juice, and sugar in a medium serving bowl. Season with salt and pepper.
Chile-Lime Tortilla Chips
Ingredients
12 6-inch corn tortillas
1 spray Canola oil cooking spray
2 tbsp lime juice
1/2 tsp chili powder
1/4 tsp salt
Instructions
Position oven racks in the middle and lower third of oven; preheat to 375°F.
Coat both sides of each tortilla with cooking spray and cut into quarters. Place tortilla wedges in an even layer on 2 large baking sheets. Combine lime juice and chili powder in a small bowl. Brush the mixture on each tortilla wedge and sprinkle with salt.
Bake the tortillas, switching the baking sheets halfway through, until golden and crisp, 15 to 20 minutes (depending on the thickness of the tortillas).
Social sharing tools