It's that time of year again: pumpkin spice lattes have returned to our favorite coffee shops, and many fall and holiday-themed sweets (cookies, muffins, doughnuts, cakes, pies, etc.) feature the humble pumpkin.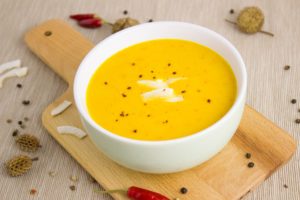 Pumpkin is a vegetable, and when eaten plain, it contains many nutritional benefits. A ¾ cup serving of pumpkin contains only 25 calories and is a good source of Vitamin A, Vitamin C and potassium. Additionally, pumpkin contains very little natural sugar. However, many of the pumpkin-themed sweet treats referenced above tend to contain more added sugar than actual pumpkin! So, if you desire to incorporate this seasonal vegetable into your cooking this fall, consider making savory dishes rather than sweet! Traditional pumpkin-spice flavored items are seasoned with cinnamon, nutmeg and other sweet spices, but pumpkin also pairs well with savory flavors like cumin, oregano, onion, garlic and even hot peppers like jalapenos, chili powder and cayenne pepper.
The same is true of sweet potatoes, too! Sweet potatoes are often baked into pies or decadent casseroles, or they are baked whole and topped with butter, brown sugar and marshmallows. But, if you ask me, sweet potatoes are sweet enough without all those extra flavors! One of my favorite sweet potatoes dishes consists of sweet potatoes seasoned with cumin and chili powder, then roasted with colorful bell pepper and pineapple chunks.
Have you ever tried to prepare pumpkin or sweet potatoes in a savory way? If so, let us know by sharing your creation in the comment box below! If not, and if you need some suggestions to get started, check out this list of 10 Ways to Use Canned Pumpkin, which includes entrees such as meatloaf, pasta dishes, chili, soups and stews.
If you would rather have a specific recipe to work from, try one of these dishes:
These three seasonal recipes allow you to enjoy the nutritional benefits and flavors of pumpkin with added fiber and protein rather than added sugar. Give them a try… who knows, you just may find a new way to enjoy "pumpkin spice" this fall!