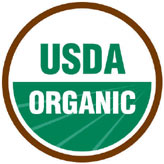 There is a higher cost associated with organic food purchases, and many people question whether the health benefits outweigh the additional expense. Organic foods are produced by farming practices that are monitored and controlled to decrease risk of food contamination and improve food quality.
Three practices, called the 'Big Three' (genetic engineering, irradiation, and sewage sludge) are prohibited by organic regulations. Other practices not allowed in the production of organic food include the use of synthetic chemicals such as pesticides, herbicides, and fertilizers. These prohibitions are important because they help to safeguard the quality of our food and to reduce our health risk from food contaminants.
Listed below are four other reasons you might want to consider when deciding whether to purchase organic produce and/or meat.
1—The environment. The natural world supplies everything that keeps us healthy, so buying organic to reduce the quantity of chemicals in the environment seems to be a smart, health-conscious decision. Organic farming practices are designed to encourage soil and water conservation and reduce pollution. Farmers who grow organic produce and meat don't use conventional methods to fertilize, control weeds or prevent livestock disease. Farmers who produce organic products use sustainable practices to work with (instead of against) Mother Nature by doing the following:
• conserve water resources,
• promote biodiversity,
• build healthy and fertile land
• utilize agriculture methods that significantly reduce pollution and wasted energy
2—The economy. Organic farming is one of the fastest growing segments in American agriculture, as more farmers grow and sell foods to customers who prefer to know (1) where their food came from, and (2) how their food was grown. Between 1997 and 2011, U.S. sales of organic foods increased from $3.6 billion to $24.4 billion. China has become the agricultural food powerhouse of the world, but U.S rules and regulations for organically grown foods give you food safety security, and for many people, that is worth the extra expense.
3– Taste and quality. "Food is medicine." Hippocrates said that over 2000 years ago, and it is still true today. Like any medicine you take to keep you healthy, produce is unquestionably the foundation of good health. It's also why the new MyPlate icon recommends at least half your plate contain fruits and vegetables. When you enjoy delicious fruits and veggies because they taste great, then you will keep eating them. However, taste is subjective, so the only way to know if you prefer organic over conventionally grown fruits and veggies is to try purchasing a few food products and doing your own personal taste test.
4—Prevention beats intervention. We don't know if the increase in cancer, digestive diseases, and other health problems is connected to the chemicals that are present in our modern environments. Each of us is unique in our diet, environment and genetic risk; as well as the fact we are subject to different chemical exposures throughout our lifetime. Therefore, it's difficult to quantify our risk or assign blame if we do develop certain diseases. But people should aim for healthier diets overall. It's important to eat fruits and vegetables, however they are grown.
Written by:
Donna Green
Extension Educator, Family and Consumer Sciences
Ohio State University Extension