Almost every culture uses vinegar as a condiment. What kinds of vinegars have you used?
Have you used vinegars from different grains, fruits and wine? Vinegars are produced by fast or slow fermentation processes and pasteurized to kill any bacteria, which would be harmful to humans. Vinegar consists mostly of acetic acid and water, and has a very tart, acidic flavor.
What ways you have used vinegar? Making salad dressings, vinaigrette dressings, mustards, marinades and flavoring dishes are just some of the ways vinegar can be used. It can be used to pickle and preserve foods, as well as provide flavor.
Flavored vinegars have become popular. Flavored vinegars can be made by adding herbs to vinegars to give them a distinct flavor. For example, try Tarragon flavored vinegar in potato salad to give it a different enjoyable flavor.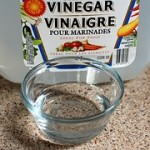 With twenty of more vinegars available, below are some of the more common varieties and some suggested uses:
• Apple Cider Vinegar is made from apple cider or apples. Considered a mild vinegar used in many ways, it is inexpensive and brownish-gold in color.
• Balsamic Vinegar traditionally comes from Italy and is made from concentrated grape juice or grapes. It is a sweet dark vinegar which is aged for 12 to 25 years. The sweetness comes from added ingredients such as sugar and caramel.
• Malt vinegar comes from barley and is usually colorless. Brown coloring is typically added. Malt vinegar is traditionally used as a condiment for fish and chips, due to its strong, sour flavor.
• Distilled vinegar is not distilled but fermented producing a colorless solution with a pH of about 2.4. Used in a variety of ways for cooking or cleaning. It is a very popular.
• Wine (Red or White) vinegar is made from white or red wine. Its flavor varies according to the type of wine it is made from and is often used in cooking. Its acidity tends to be lower than many other types of vinegars.
• Rice vinegar is made from the Japanese rice wine, sake. Due to its mild acidity it is popular in the cuisines of Japan and China.
While vinegar is acclaimed for curing many problems and helping with weight loss, research has not found it to be helpful in losing weight. Check Internet sources, which commonly report success in this area. It can interact with some drugs and supplements causing low potassium levels. Check with your health care provider before consuming vinegar in larger quantity.
Using a vinegar solution to cleaning glass or mirrors is very common. If you are interested in using distilled vinegar to clean other items, check the Internet as there are many articles about cleaning with vinegar.