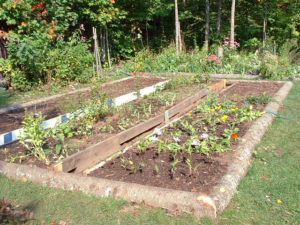 I have a 12 x 12 plot of ground close to my patio that serves as a kitchen garden, or as the French call it a "potager" (sounds classier, doesn't it?). We could learn a lot from the French, as roughly one-fourth of the fruits and vegetables they consume are home-grown. A kitchen garden/potager consists of plants that you intend to eat. For me, that includes strawberries, tomatoes, peppers, zucchini, and lettuce.
Two big reasons why you might want to install a potager are nutrition and money. Plant foods, in particular fruits and vegetables, are important foods to eat everyday as they provide nutrients, fiber, antioxidants, and other amazing compounds that help reduce your risk for degenerative disease. Also, planting your own crop can save you hundreds of dollars, as well as provide you with an extremely fresh product.
What to plant?
It's easy to get carried away when planting a kitchen garden for the first time. You have to be realistic about what you will actually be able to eat when the harvest comes in and whether you want to be able to preserve some produce for winter consumption. Many people are trying their hand at tomato-based products like salsa. Salsa is an easy recipe to follow if you want to make it fresh and eat within a few days, but you can also learn food preservation techniques such as canning or freezing for long-term storage.
How does this save money?
A few hardy tomato plants can produce over 100 pounds of tomatoes, which normally would cost $1 per pound or more at the grocery store. A seedling pack containing four peppers runs $2-3 at the garden center, so putting in a few pepper plants will yield you ten times the produce for just that original purchase price. Even better, if you are growing your produce organically without chemicals, the price savings are greater, as organic produce is usually double the price of regular produce.
Some gardeners have the space and time to start plants from seed, but I usually just purchase the seedlings in May and plant them right into the garden. However, you can start a few of the easier vegetables and herbs by sowing the seeds directly into the ground. If you're unsure of which way to proceed, my philosophy is to start slow the first year and try not to do too much from scratch. Once you experience some success with planting established plants, you can tackle starting plants from seeds.