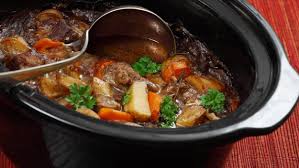 Fall is one of the busiest seasons of the year because family schedules are jam-packed with school activities, homework, sports, and holidays (fall ends on December 20th). It's no wonder slow cookers (also known as Crock-Pots) reappear on the kitchen counter this time of year, as they provide a convenient and quick method of food preparation. All that's needed on your part is to throw the recipe ingredients into the cooker and head out the door. Then be prepared to come home to a ready-to-serve dinner!

Food safety-wise, slow cookers are a safe way to cook food if they are used correctly. Just follow these reminders:

• Always start with clean hands, slow cooker, utensils and work space.
• Thaw meat or poultry before putting it into a slow cooker. Defrosting ensures food cooks all the way through to safe internal temperature. Cut bigger foods (like meat and potatoes) into small chunks so they will cook thoroughly.
• Keep perishable foods refrigerated as long as possible. Bacteria multiply rapidly at room temperature. To avoid this, keep your food refrigerated until it's time to add it to the pot.
• If possible, set the cooker at the highest setting for the first hour of cooking, then turn back down to the low setting. However, it is safe to cook foods on low the entire time. Just make sure your food reaches the proper internal temperature by using a food thermometer.
• Do not use the warm setting to cook food. It is designed to keep food hot after it's cooked.
• Make sure the food(s) you are cooking fit! The slow cooker should only be one-half to two-thirds full to ensure all the food cooks thoroughly. Don't overfill it!
• Keep the lid on. It's important to retain the heat when preparing a slow cooker meal, so avoid taking the lid off. Only remove the lid to stir or check for doneness.
• Do not leave cooked food in the crock when cooling down. Place leftovers in shallow containers and refrigerate.