Making your drinks at home allows you to control what exactly goes into your drink: the amount of syrup, the type of cream or milk, and any added sugar or other sweetener. This will help to keep you on track with the calories that you are consuming throughout the day. This will also help you to stay on track with your daily budget. As was explained in the previous blog post, making your specialty coffee drinks at home could save you a lot of money compared to your local coffee shop.
There are some great tips and tricks that can help you to save both money and calories while making your coffee drinks at home:
Mix pre-made coffee beverages or lattes with fresh brewed black coffee and/or non-fat milk, depending on your taste preference. If you use just half a serving of the pre-made coffee drink, not only do you cut your calorie consumption from the added sugar and cream in half, but you double the amount of servings in the bulk sized bottle, therefore stretching your food dollars spent on coffee beverages.
Brew coffee at home and add store bought coffee syrup to get the same flavors fromthe local coffee shop, but you are able to control how much flavor/calories wind up in your drink. Flavored coffee syrups have become more widely available in a bunch of flavors, including specialty holiday flavors. A bottle of syrup will typically cost between $8.00 – $12.00 for roughly 30 servings.
According to Columbus Public Health, always savor before you flavor, especially when using flavored coffee beans. Even if you are not used to drinking your coffee black, you may find that the flavor from the beans is enough for your drink without needing to add any more syrup or sugar. As was mentioned in the first blog of the series, minor changes to your holiday coffee drink, like going without the whipped cream on your drink, can add up in a big way to save you calories over the course of a year.
Coffee definitely touts a number of health benefits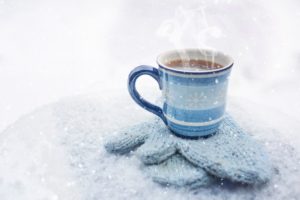 , from increasing cognitive function and containing antioxidants, to acting as carrier for milk, which can help us to reach our calcium goals for the day. As a result, be sure to enjoy your coffee drinks this holiday season! I hope our tips and tricks help you to save calories and money while you enjoy your sipping, and please share with us any of your own tips and tricks that you have tried in the coffee shop or at home. Enjoy!