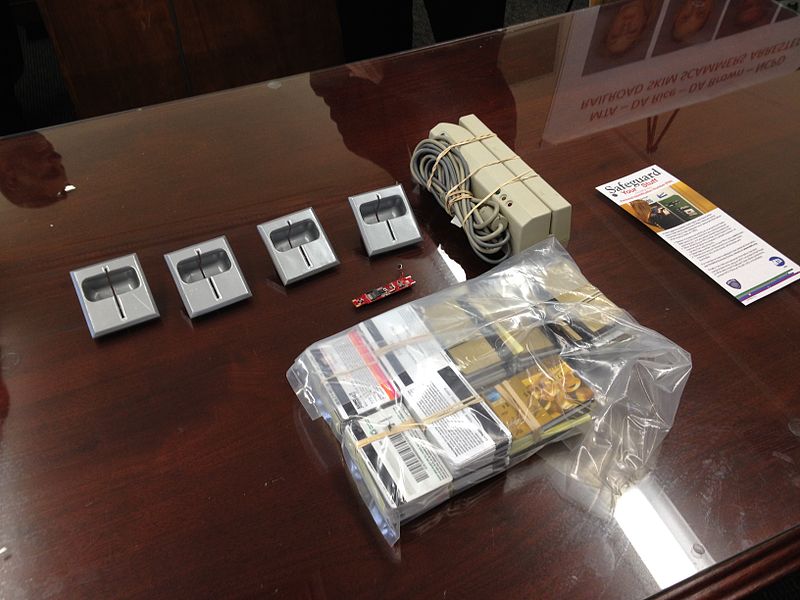 Do you know what a skimmer is? It is a small electronic device that can be used to steal credit or debit card information from you. Getting skimmed is most likely going to happen at bars and restaurants (where a server takes your card and walks away with it for a short period of time), or gas stations and ATM's (where thieves can install a "faux" skimmer over the original). Once the information is skimmed, it is usually sold to a contact or over the internet. Counterfeit cards can then be made and used to purchase items out of your account.
Tips for Bars and Restaurants
Do not let your card out of your sight. If the server brings one of those folders to you when it is time to settle the bill, tell them that you prefer to take the card to the cash register yourself for payment. Don't let the server (or your guests) guilt you into feeling "paranoid" or "overprotective" for watching out for your personal information. It only takes a couple of seconds to swipe your card, but becoming the victim of identity theft may cripple you financially for years. Better to be safe than sorry.
Tips for Gas Stations and ATM's
Thieves are able to mount "faux" devices over the card slot of an ATM or other outdoor card reader (such as a gas station pump), because there are more opportunities to make the switch than in a physical store where the cash register is secured and monitored. Thieves may also resort to placing tiny devices on credit card slots and pin pads to capture your account information.
You swipe your card, your personal information is unknowingly stolen, and it may be days or weeks before you realize your account has been breached. If you are getting cash from an ATM or purchasing a product where you have to scan your card in an unprotected area (like a gas station pump), check the card slot to ascertain that it is secure. Sometimes the illegal slot will wiggle or pull off in your hand, since it is placed over the original.
Ways to Protect Yourself
1—Use your free hand to cover your dominant hand when you are entering your pin. If a surveillance device is installed, it won't be able to record your secret code.
2—Change the pin on your credit and debit card at least twice a year.
3—If you are getting close to the expiration date on your card, ask for a replacement card with a new number.
4—Monitor your credit card receipts, balances, and bank accounts on a regular basis. Go online and check your balances often, which will help you find any discrepancies in short order. If you share an account with a spouse (or another person is allowed to use your card), check to make sure that all purchases were made by someone you've approved.
5—Use a credit card rather than a debit card. If thieves get your number, they are stealing from a company, not your personal account.