As parents, we encourage our kids to do their best in the classroom, on stage, on the ball field. We want them to be well rounded and try new activities, so we tend to push our kids. Some amount of pushing can help a child develop grit and perseverance. According to child psychologists with Child Mind Institute, when children learn to push through tough situations, they feel accomplished and confident.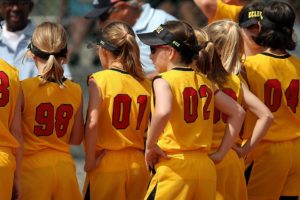 We sign our kids up for piano lessons and dance lessons and quiz team and soccer. After all, we don't want them to become video game-addicted couch potatoes. But how do we know if we're pushing our kids too much? How do we find the right balance of activity between bored and overscheduled?
Here are some signs kids might be over-scheduled:
Feeling tired, anxious or depressed. Sometimes the pressure to perform leaves them stressed and anxious. Perhaps they feel they may not live up to the expectations of parents, teachers or coaches
Stomachaches or headaches. The child may not be getting enough sleep, or maybe he is missing meals in order to meet the demands of the schedule.
Falling behind in school. If a child is busy with extra curricular activities he may not have enough time to get homework done. School and homework should be a top priority.
No longer enjoy activities. If a child no longer enjoys activities they used to love (riding a bike, playing with friends), that could be a sign he is over scheduled.
Overscheduled parents. Busy kids mean busy parents, running them to piano lessons, soccer practice, etc. And if there are multiple children in multiple activities, that complicates the schedule.
So how do we find balance?
Keep a calendar. It's helpful if you can use one that the whole family can access, whether it's a wall calendar or an online calendar. Schedule some down time or a free day with no activities.
Balance activities among the children. Make sure to strive for equitable balance of activities and attention among all the children in the family.
Make school a priority. Sometimes families get so busy they lose sight of what's important. Success in school should be primary to other activities.
Stick with it. It's ok to teach kids to honor their commitments and follow through. If they join a soccer team, they should finish the season.
It's ok to say no. Even when children beg to join another activity, know when to say no. Consider your child's personality and stress level before committing to another activity.
Kids need some down time to just be kids. They need time to play in the yard, play with friends, play with their families. It can be a challenge to find that balance. Christine Carter of Greater Good Science Center recommends that kids get some PDF every day: Play time, Down time and Family time.