April is not only Earth Month, but also Stress Awareness Month! If you already knew this, you are a step ahead in your stress awareness. Stress is a hot topic for our health and well-being.
How does stress work? Whether it's good or bad stress, your body releases stress-specific hormones into your bloodstream, increasing your blood pressure, heart rate, and glucose levels. These physical responses are an example of how long periods of bad stress can impact those with chronic disease like diabetes.
Studies show us that increased stress can lead to cardiovascular disease, accelerated aging, decreased immune functioning, digestive issues, and a number of other somatic complaints. Stress can impact your ability to function at your best, making the workday feel like a struggle and increasing your feelings of burnout.  Your relationships with friends and family can also be impacted.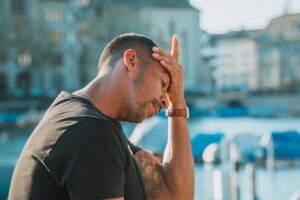 All these reasons are great examples of why it is important to identify the causes of our stress and learn healthy ways of coping.  Everyone experiences stress differently, and therefore, will react differently to stress. Besides the physical symptoms and relationship strain stress can produce, it can also leave you feeling sad, irritable, or hopeless. Stress can cause focusing and decision-making difficulties. It can also lead to maladaptive coping techniques such as using drugs or alcohol. Healthy coping alternatives include:
Realize what you cannot change and focus on what you can change about a situation.
Create realistic goals to help you get through stressful times.
Eat healthy foods, get plenty of sleep, and exercise regularly.
Share your thoughts and feelings with a trusted family member, friend, or professional. These ideas may sound familiar, but have you ever considered embracing stress? In an article written by psychologists at Stanford University,  Kelly McGonigal shares that stress can be helpful when used the right way. How to manage stress this way starts by changing your mindset when in high-stress situations. Embracing stress has three main purposes:
Change your view of stress from debilitating to helpful. Stress is an indicator that you may not be happy with the way something is happening, or that you may have negative feelings towards an event. It is good to reframe stress to get you motivated to tackle it.
View stress as something you can handle, even if you may need some help. Reflect on the ways you grow as a person through your life experiences.
View stress as a normal part of life. Just because it happens to you doesn't mean that you are the only one to go through it. Take stress less personally.
Although stress, when unchecked, can have unsatisfactory results- it's a part of life! Change your mindset to find ways for stress to make you a more resilient and empathetic person.