March is National Nutrition Month®! This year the theme is Savor the Flavor of Eating Right, that's got a nice ring to it, doesn't it? The idea behind this month's theme is to ENJOY your food and to appreciate the smells, flavors, and fun that go along with sharing a meal!
According to the Academy of Nutrition and Dietetics, the key messages are pretty simple: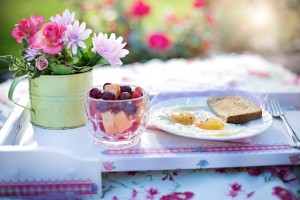 How, when, why and where we eat are just as important as what we eat. Making sure to enjoy the sight, sounds, memories and interactions associated with eating are essential to developing an overall healthy eating plan.
Develop a mindful eating pattern that includes nutritious and flavorful foods, while also taking the time to enjoy everything that a healthful and tasty meal brings with it. That's the best way to savor the flavor of eating right!
It is possible to enjoy the taste and flavor of food while still maintaining a healthy diet. Take time to enjoy food traditions and find creative, healthful and nutritious ways to add flavor to food. An eating pattern based on the 2015-2020 Dietary Guidelines and MyPlate recommendations can accommodate the food preferences, cultural tradition and customs of many diverse groups.
A registered dietitian nutritionist can provide sound, easy-to-follow personalized nutrition advice to meet your lifestyle, preferences and health-related needs.
Throughout this month there are countless ways you can get involved in promoting nutrition in your home, workplace, schools, and communities! Here are just a few…
As a family, commit to trying a new fruit or vegetable each week during National Nutrition Month®.
Organize a food donation campaign for a local food pantry or shelter.
Contact the local library and schedule a story time, nutrition program or a poster coloring contest for kids. Provide activity sheets for children, Eat Right nutrition tip sheets for adults and NNM bookmarks for everyone.
Play some nutrition games! They even have some for us adults…
Vote for your favorite fruits and vegetables: Offer a selection of fruits and vegetables cut into bite-size pieces. Ask participants to vote for their favorite vegetable and fruit. Post a tally board to record votes. Handout "20 Ways to Get More Fruits and Vegetables."
Highlight ethnic and cultural food traditions. Offer special menu items from international cuisines (Asian, Mediterranean, Mexican, etc.) or regional foods of the United States.
Organize a supervised scavenger hunt for food items needed to make a healthy recipe.
So get out and Savor the Flavor this month with family and friends!!!