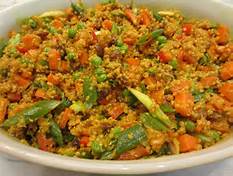 It is always fun for me to look around at a few new foods at the grocery store. Right now, groceries as well as restaurant menus are sporting a food that you might be unfamiliar with…..quinoa, pronounced 'keenwa'.
Just what is quinoa? It is not a grain, but an edible seed. It is not a true cereal crop because it isn't a member of the grass family. Quinoa is closely related to spinach and tumbleweeds. It is becoming a star because it is a gluten free food, but this little gem is very high in protein. It is high in iron, magnesium and fiber, so really is a 'superfood'. Added to this, it is easier to cook than rice.
There might be as many as 1800 varieties of quinoa, but when you look in your grocery store, you will see three main types: the most common white variety, a red quinoa and a black variety. One of the complaints from cooks about their first experience in cooking quinoa is that it is bitter. But nearly all of the natural bitterness of quinoa's outer coating can be removed with a thorough rinsing in a fine mesh strainer in tap water before cooking.
Consider cooking quinoa in vegetable or chicken broth. The rule of thumb for cooking quinoa is 1 cup of quinoa plus 2 cups of liquid will yield about 3 cups of cooked quinoa.
Quinoa can be used as a replacement for pasta or added as an ingredient in a favorite stir fry recipe. Once cooked, any leftovers can be stored in the refrigerator and used within a week.
Asparagus, salmon and feta cheese go together remarkably well in the following recipe.
1 cup quinoa
2 cups vegetable broth
¼ teaspoon salt
1 lemon, juice and zest
8 ounces smoked salmon, chopped small
1 tablespoon extra virgin olive oil
1 cup asparagus, cleaned and cut diagonally in 1 inch pieces
½ cup feta cheese, chopped
1 tablespoon fresh dill, minced
1. Place the quinoa in a fine-mesh strainer; rinse until the water no longer foams. In a medium saucepan, bring the vegetable broth to a boil. Add the quinoa, salt, and the zest of the lemon. Reduce the heat to low, cover, and simmer for 15 minutes. After 15 minutes, turn the heat off; let the quinoa set, still covered, for another 5 minutes. Drain off any unabsorbed water.
2. Squeeze the juice of the lemon over the quinoa, then mix in the salmon and remaining ingredients. Serve immediately or refrigerate overnight.
You can substitute cooked chicken for the salmon if your family might want to venture a little more slowly into a food adventure.
If the weather continues on this cold path, a new experience in your kitchen might be just the ticket for a new conversation….especially if it isn't about the weather!
Written By:
Nancy Stehulak
Reviewed by:
Patrice Powers-Barker