Good nutrition and a balanced diet in early childhood help kids grow up healthy, and have the potential to positively impact lifelong eating behaviors and overall health.
Ohio State University Extension, Family and Consumer Sciences produced a 26-page booklet called Smart Eating for Young Children, a publication providing professionals and families with practical information and advice to support healthy eating habits in children ages 0-5 years.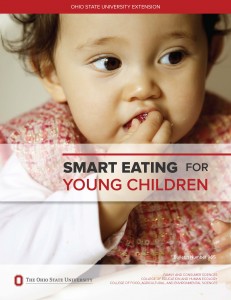 Using a modern layout, plain language, and large, beautiful images, each chapter is written by an OSU Extension Educator or Specialist on topics ranging from breastfeeding and portion sizes to food safety and food insecurity.  This booklet is a great tool for parents, educators, college students and other professionals working with young children.
Interested in purchasing a copy?
Smart Eating for Young Children is available for download in PDF format from OSU Extension's eStore: go.osu.edu/sSG
 Buy your copy today for just $4.99!