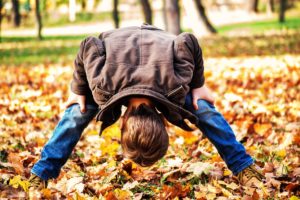 When I was a child, I was conditioned to never utter the words "I'm bored". My mom would threaten to assign me chores whenever she heard those words escape my lips!
I don't blame my mom for encouraging me to keep busy, find things to do and avoid boredom in my childhood. I recognize that as a parent, hearing the words "I'm bored" may evoke annoyance and even feelings of guilt. In today's culture of intensive parenting, the experience of boredom implies a parent's failure to adequately entertain their child(ren). Our culture tells parents today to do whatever they can to enrich their children's lives with extracurricular activities, in order to set them up for future success in life.
This style of parenting comes at a cost. According to a New York Times article on modern parenting, parents today spend nearly five hours a week on activities such as reading to children, doing crafts, taking children to lessons, attending recitals and games, and helping with homework. This is an increase from 1 hour 45 minutes spent each week on these activities in 1975, yet parents today still worry that they're not doing enough. Additionally, parents today are more likely to:
Include their children in their own personal leisure time activities such as exercising and socializing
Sacrifice housework and sleep in order to spend more time with their children
Have fewer children so they can invest more time and money in the children they already have
While experts agree that investing in children is beneficial, there is also concern among psychologists and other health professionals about children's high levels of dependence on their parents. For this reason, developing independence and resilience through unsupervised play – which may at times involve boredom – may not be such a bad thing.
In an opinion piece on boredom that ran in the New York Times earlier this year, author Pamela Paul states "Life isn't meant to be an endless parade of amusements… The sooner you learn how to make it interesting, the better off you'll be." School and work are bound to be boring at times, but they are necessary for life. Paul points out that the ability to handle boredom is associated with one's ability to self-regulate and focus. Plus, boredom is also associated with creativity and resourcefulness!
Paul and other experts suggest that we begin to view boredom not as a problem to be solved, but as an opportunity. As parents, we need to stop feeling guilty when we hear our children complain about boredom. Instead, we should respond by providing them with space and time to let their imaginations wander, as well as space, time and materials to try out some of their ideas. Not only will this practice encourage children to think independently, it will provide us with more margin and free time as we let go of the expectation that our children be entertained by us all day, every day.