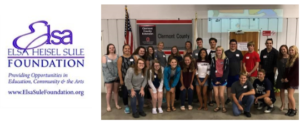 Ohio State University Extension Clermont County is pleased to announce it has been awarded a grant from the Elsa M. Heisel Sule Foundation.  The grant is provided for the LOOK to Clermont: Preparing Tomorrow's Leaders Today program.
The Elsa Heisel Sule Foundation is an independent, private, philanthropic organization originally established in 2004, by Elsa M. Heisel Sule, a native of Northern Kentucky and businesswoman in the television industry.
The purpose of the Elsa Heisel Sule Foundation is to award grants to qualified nonprofit organizations that administer programs within Elsa's guidelines of interest in the tri-state areas of Kentucky, Ohio and Indiana http://www.elsasulefoundation.org/grant-guidelines/ . These programs fall within the areas of Education Success & Scholarships, Health Wellness & Scientific Research, Children's Welfare & Competitive Sports, Fine & Performing Arts & Cultural Vibrancy, Civic Public Affairs, Animal Welfare & Preservation, or Environmental & Community Stewardship.
LOOK (Leadership Opportunities for Organizational Knowledge) to Clermont is a teen leadership and workforce preparation program developed to meet the demand to prepare teens for leadership roles today and into the future. The program focuses on three pillars: an OSU leadership course, place-based education and service learning. In addition, to address emerging communication technologies the program guides the teen learners through innovative online learning platforms forcing them to practice personal communication skills in preparation for the digital age.
If Elsa Heisel Sule was alive today she would be excited to see youth practice 21st century communication skills utilizing emergent technologies just as she did with a microphone covered with flowers during "50-50 Club" 1950-60 television broadcasts.  The Elsa Heisal Sule Foundation and OSU Extension LOOK program are truly united in common bond by their stated priorities and objectives.
For more information about OSU Extension Clermont County and LOOK to Clermont program, https://clermont.osu.edu/program-areas/4-h-youth-development/look-clermont-youth-leadership
OSUE Clermont County is a non-formal education branch of OSU. The office merges needs of local citizens with OSU's research through four focus areas: Family & Consumer Sciences, 4-H Youth Development, Agriculture & Natural Resources and Community Development.