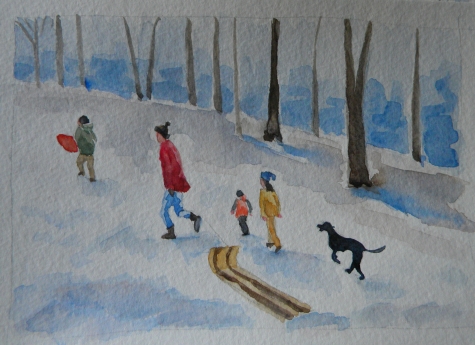 News reports may state that the recession is winding down, but some families around the area are still having a hard time making ends meet. To complete the financial slam-dunk, here come the holidays. The Christmas holiday season is fraught with angst and anxiety under the best of circumstances, adding additional work and stress to families. Throw money issues into the mix and you have a recipe for family melt-down.
Whether you are having money issues or not, you might want to rethink how you celebrate the holiday season. Have you grown discouraged by the commercialization of a religious holiday? Would you like to make the holidays more meaningful and less about consumption? Then you may want to change your mind set about gift-giving. Most Christmas gifts usually only provide momentary happiness. As soon as something becomes yours, its value is diminished by use and familiarity.
How about accumulating memories instead of stuff? Do any of you with children really want more toys to trip over and store? Do the adults out there need more ties or shirts? Why not take some time over the holidays to go out into the community and do things as a family? I guarantee your kids will cherish and remember those outings much more than a toy or an article of clothing. And it doesn't have to be expensive. There are many fun things going on in the state over the next few weeks that are free or low cost.
How about a drive around your community to look at the Christmas lights? Take some hot chocolate in a thermos and popcorn to snack on in the car, and roll down the windows a little to feel the fresh, cold air. If the weather cooperates and it snows, head over to the nearest sledding hill for an afternoon. If you don't own a sled, they are pretty inexpensive to purchase, or you may be able to borrow one from a neighbor. An old inner tube is one of the most fun ways to descend a hill, and not quite so difficult to navigate if you have older joints or a more "mature" body.
If you can afford to spend a little more for a day's outing, you might want to drive to Cleveland to check out "Snow Days" at Progressive Field (home of the Cleveland Indians). The Indians organization is turning the ballpark into a winter wonderland with a snow tubing hill, ice skating rink, walking trail, and fire pit. The tubing hill, called the "Batterhorn," is over 60 feet high and refreshed with snow made daily. The park will be open for five weeks from Thanksgiving thru New Year's Day. Cost is as low as $5 per person, but check out the Indians website for specific information on times and charges.
Many zoos celebrate the holiday season with lighting displays. They are literally transformed with millions of light and images. Grandparents may want to take their grandchildren, or even buy passes for the family as a Christmas gift so the zoo can be enjoyed all year long. Bowling is a fun and active way to spend an afternoon in January when it is too cold to be outside for long periods of time.
No matter what your family's age range, try to schedule some holiday togetherness. You can never get these years back, the present becomes the past and it is gone. Think outside the box and make your gift choices interactive, memory-making, and meaningful.
To get you primed for this holiday paradigm shift, log onto the Ohio Department of Aging website and type "depression stories" into the search box at the top right of the screen. When the page loads, scroll down to the Christmas link and read about stories of what holidays were like during the depression. I'm sure you will be as moved as I was when you read the recollections of Christmas from some of our older senior citizens. Below is a story submitted by Carolyn Davison, age 86, Columbus:
"Our Christmases were so exciting! Christmas Eve, we would go down to the market after it closed, pick up a tree they had thrown away, and decorate it that night. What family fun for my brother, sister, me and my mom and dad! It always was beautiful in my childish eyes. We had no gifts under our tree until the day after. The morning after Christmas, we went down to Montgomery Ward on Main Street and Mother and Daddy purchased our gifts at sale price. In those days, the day after Christmas was really honestly marked down good merchandise before Jan. 1 inventory. I remember one year I wanted a certain doll so bad, but of course we couldn't afford it. The day after Christmas, we went down to Montgomery Ward and yes, there was one of my dolls still for sale, marked down. My mother grabbed her up and hugged her and actually cried. She had been marked down enough for us to buy her. My daughter has her in her treasures."
Written by Donna Green, FCS Educator, OSU Extension, Erie County