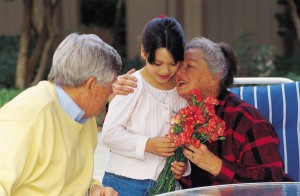 Strong, sound relationships play a critical part in a person's well-being and life satisfaction. That's clear from years of social research, but it's just one reason why Ohio State University Extension devotes resources to programs on Healthy Relationships.
"Our goal is to help empower families to have positive communication skills and provide them with an understanding of 'milestones' — what's developmentally appropriate throughout the lifespan," said Carmen Irving, program specialist for Healthy Relationships with OSU Extension Family and Consumer Sciences.
Such programs are geared to boost quality of life, Irving said, but they can pay off in economic terms as well.
"Our co-parenting classes (for divorcing parents) reduce the amount of contact parents have with the court system," Irving said. "And one of our main goals with aging-related programs is to work with aging adults and their families to help aging adults maintain their independence as long as possible." Doing so not only helps individuals and families save resources, but reduces health care-related costs on a more global scale, Irving said.
Irving started with OSU Extension in late 2013 and has spent this year, the 100th anniversary of Extension, leading OSU Extension's family and consumer scientists in updating Healthy Relationships program offerings. The idea is to use research-based programming help strengthen all Ohio families, "however you define that," Irving said, "whether it's nuclear families, extended families or partnerships."
The hope is that the effect of such programs carry over into the next generation, Irving said.
If we can help parents understand positive parenting techniques, for example, then we can change the trajectory not only for the child, but also later, when the child becomes a parent.
Some of the Healthy Relationships programs that OSU Extension offers include:
Parent Education. Extension offers a variety of parenting programs covering topics such as nurturing children's growth and development; age-appropriate discipline; and the importance of spending time and communicating with children. They include information specifically geared to fathers and to specific populations, such as incarcerated parents. Program formats vary but are typically conducted as a multi-session series in which instructors meet with groups of parents over the course of several weeks.
Successful Co-Parenting. This class offers parents going through a divorce or dissolution with knowledge, skills, tools, awareness and strategies to help their children adjust to their parents' breakup. Offered in a two- to three-hour class, about 1,500 Ohio parents have participated so far in 2014, Irving said. About 9 in 10 participants report feeling more prepared to co-parent as a result of the class.
Universal Design. Incorporating the principles of Universal Design into a home can make existing housing more accessible and easily manageable for people of all ages and abilities. "Small changes can be made to help people maintain independence, but also to increase the feeling of control they have over their own lives," Irving said. Tours of a permanent exhibit with Universal Design features in a model kitchen, bath and other parts of the home can be arranged in the spring and fall. See fcs.osu.edu/resources/universal-design/outreach for information.
OWLS: Older Wiser Learners Series. OWLS is a seven-week program addressing the unique needs of people over age 65, such as nutrition and cooking for one or two on a budget, personal safety and identifying scams, how to make home modifications to allow for "aging in place," and how to talk with family members about end-of-life issues. Developed earlier this year by Kathy Green, family and consumer sciences educator in Butler County, sessions are offered in two-hour blocks that include a meal and social time, geared to reduce isolation and expand peer groups among seniors, Irving said.
Mindful Extension: A Guide to Practical Stress Reduction Strategies, is a four-week workplace program developed by The Ohio State University College of Medicine and offered by OSU Extension. Designed to reduce day-to-day stress and increase productivity, the program emphasizes bodily relaxation and mindful awareness habits. The four-week program is the newest Healthy Relationships offering, Irving said. It is currently being piloted in a limited number of counties and will expand in 2015.
Looking to the future, Irving said, OSU Extension's Healthy Relationships team has identified five focus areas for 2014-2015: Early Childhood Training (for professionals working with preschoolers); Aging; Mindfulness and Stress Management; Parenting; and Family Wellness.
"These focus areas reflect trends in Ohio and the needs of counties across the state," Irving said.
For more information on Extension's Health Relationships programs, see fcs.osu.edu/family-life.