Do you remember as a child opening up that new board game under the tree or at a birthday party? I do – every year at least one of the girls in my family received a game (there are four of us) and as soon as the paper was cleared away we were off to the family room to play it. I have fond memories of those battles and my sister's do too. So why when I shop for gifts am I not picking up games for the next generation?
While all types of games can teach skills, parents should be encouraged to look to board or card games to cut back on a little of the screen time that all family members are having. Playing games has a number of benefits including: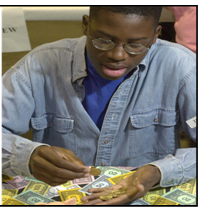 Improving math skills like counting, subtracting, sizes, and shapes.
Building vocabulary, memory, spelling or problem solving skills, and language development.
Fostering imagination, confidence, and cooperation.
Games can build bonds; improve sportsmanship skills, and creativity. By playing games as a family, it provides an opportunity to reduce stress, create memories, and increase fun and laughter. Social skills like taking turns are valuable lessons especially for young children.  Many games also include physical activity to burn calories and improve flexibility. A hidden benefit of games is that they are often available for a reasonable price as a gift. When looking at the best games for children, many of the classics still are listed, so you need not purchase the latest thing. What is your favorite game?
Sources:
University of Alabama, Parenting Assistance Line, http://www.pal.ua.edu/support/family-play.php.Stealth Learning: Unexpected Learning Opportunities Through Games, Journal of Instructional Research, http://www.gcu.edu/Academics/Journal-of-Instructional-Research/-Unexpected-Learning-Opportunities-Through-Games-.php.
Writer: Lisa Barlage, Extension Educator, Family and Consumer Sciences, Ohio State University Extension, Ross County.
Reviewer: Elizabeth Smith, SNAP Ed Program Specialist, Ohio State University Extension.