Bones provide support for our bodies, protect our brains and organs, anchor muscles, and store calcium.  But did you know that our bones are living tissue?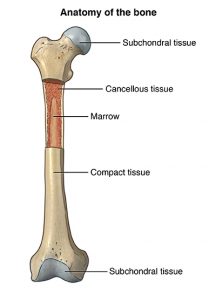 They contain nerves, blood vessels, and marrow – where blood cells are created.  Did you know our bones continually grow over a lifetime?  They constantly tear down and rebuild themselves, known as "remodeling"; new bone cells are growing in where old bone cells have been shed.
When we are under age 20 we are forming more bone cells than we are losing.  Then, for most of us, our bone mass peaks by age 30.  After that our bone density begins to decrease and rebuilding new bone slows down.
What is needed to keep bones healthy? 
Calcium – a mineral found in many foods – is needed to keep bones healthy. Most of the calcium in our bodies is stored in the bones and teeth – it supports their structure and hardness.  The amount of calcium needed daily depends on age.  For people age 4 and up it can be anywhere from 1,000 – 1,300 milligrams of calcium needed each day.  If the calcium in our body is low for a long period of time it can cause low bone mass.  This can lead to health concerns such as osteoporosis and bone fractures in both men and women.
Vitamin D – a nutrient we eat and a hormone our bodies make – helps the body absorb calcium in the gut, and is needed for bone growth and remodeling. Vitamin D is found in some foods and added or fortified to others.  Sunlight is also known to be a source of vitamin D for some people.  The recommended daily allowance (RDA) of vitamin D is identified in International Units (IU) and depends on age.  For adults ages 19 to 70, the RDA of vitamin D is 600 IU a day. The recommendation increases to 800 IU a day for adults age 71 and older.
Exercise or at least including some form of physical activity in your daily routine will help keep bones healthy.  When we don't exercise our bones and muscles weaken.  Any activity that puts the weight of your body or an outside weight on the bone helps bones last longer.  This can consist of walking, climbing, lifting weights, or dancing.
When it comes to your bones – alcohol can interfere with the body's ability to absorb calcium.  While research suggests tobacco use contributes to weak bones.
Are you at risk for poor bone health?
Here are some clues that you are at risk:
Your older relatives have had fractures.
You have had illnesses or have been on medications that might weaken bones.
You are underweight.
Check out the check list "Are you at risk for weak bones?" at The Surgeon General's Report on Bone Health and Osteoporosis: What It Means to You.  If you are concerned about bone loss –talk to your health care professional about getting a bone density test.
Our bones are awesome! They do so much for us and we know what we can do for them.  Take care of yourself; prevent bone loss and have healthy bones – needed for a healthy body.