While there are numerous theories of child development that are widely accepted, most acknowledge one basic truth: Children learn and develop in part because of what they observe others doing – particularly adults, and especially their parents or caretakers.
This means that as a parent, you're teaching your child even when you don't think you're teaching your child. Late last year, I posted about how the same concept applies when modeling positive financial behaviors.
The importance of teaching by example applies to children of all ages, including teenagers – no matter how much it may seem that they won't budge their attitudes. All of the eye-rolling may suggest that they think your ideas are silly, but your words and actions still make a significant impact on theirs over the long term.
In a time where obesity and debilitating levels of stress are having a major impact on children, teens and adults alike, consider how you are managing your own fitness, nutrition, stress or relationships. Is what your child witnesses something you would want them taking after?
Likely, there are plenty of things you do that set a great example. But all parents (all humans) have flaws and areas upon which to improve. There are resources available that can help you become a better role model in various aspects of health, so that your child can see you practicing these healthy behaviors and eventually, start taking after them.
Do you want to become a better role model in…
Nutrition?
View the 10 tips for being a healthy role model for children on ChooseMyPlate.gov. This resource offers ideas like bringing your child grocery shopping so that they can be there with you to select fruits and vegetables. (They're more likely to eat them if they've picked them out.)
Stress Management?               
According to the Partnership for Drug Free Kids, 61% of teens say that stress and anxiety have a major impact on their lives, and no doubt adults in today's world are reaching higher-than-ever stress levels. Consider how you react to your own stressful situations. Is it a healthy approach? Take a look at our Stress Coping Methods Fact Sheet to get ideas on better managing stress.
Physical Activity?
Visit the Be Active Your Way Blog to learn about how and why being physically active on your own an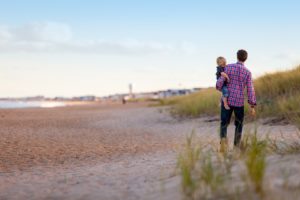 d as a family is so important for setting the example.
Mindfulness?
By now you're familiar with the concept of mindfulness, but are you practicing it? Doing so will be beneficial for you and for your child. As often as you can, put down the cell phone, eliminate other distractions, and be present where you are. This is one of the most important examples you can set to mitigate the increasing levels of mindlessness in our world. For more information about how to put mindfulness in practice so you can set a healthy example, see our posts about this topic.
Save