Are you hosting family or friends this holiday season? If children will be visiting, there are a few simple things you can do to encourage them to make healthy eating choices while they visit you over the holidays:
1. Adopt a "water first for thirst" approach. When the kids ask for something to drink, pour a nice big glass of ice water instead of high-sugar soft drinks or other beverages. Experts generally recommend children 4-8 years old drink 4 cups of water a day (without added sweeteners), and that increases to 7-8 cups for ages 9-13, and 8-11 cups for 14- to 18-year-olds. For teens, that translates into drinking enough water to fill a 2-liter bottle.  Offer plenty of calcium-rich low-fat milk (unflavored), but limit 100% fruit juice to less than 8 ounces a day, and try to avoid sweetened drinks all together. Water can be dressed up by adding strawberry or orange slices, or cucumber slices and mint.
2. Start a tradition of making healthful smoothies for breakfast or for an afternoon snack.  Just pack the blender full of fruit, such as bananas, strawberries, pineapple, peaches, or mandarin oranges, plus ice cubes, yogurt and juice. You could even add fresh spinach for green smoothies. No need for extra sugar or ice cream. For thicker smoothies, try using frozen fruit.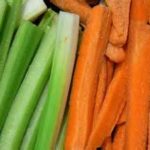 3.  Keep a variety of fresh fruits and vegetables on hand. Make them as easy to eat as possible by slicing the fruit and vegetables into bite-size pieces. In one study, younger elementary-school students said they found whole fruit to be too cumbersome to eat comfortably, and started eating much more when fruit was sliced for them. For preschoolers, be sure to cut grapes and cherry tomatoes in half before serving to be sure they aren't a choking hazard.
4.  Double up on vegetables both for snacks and during meals — most children don't eat nearly enough. For snacks, consider having a large clear bowl in the fridge with ready-to-eat baby carrots, celery sticks, bell pepper strips, cucumber slices, and broccoli and cauliflower florets.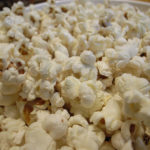 5.  Keep other healthful snacks around.  Ideas include nuts, whole-grain crackers, rice cakes, and air-popped popcorn.
For more helpful hints on healthful snacking, check out this MyPlate tip sheet.