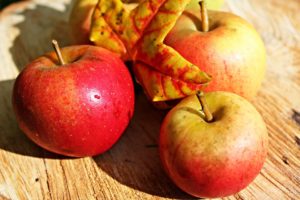 Apples are an enduring sign of fall. I'm very fortunate that the community where I live hosts an annual Apple Festival to recognize all of the great benefits and varieties of apples. Whether you enjoy picking apples, baking apple pies, drinking apple cider, or just biting into a fresh, crisp apple, fall brings many opportunities to make apples part of your day. And since apples are easy to carry for snacking, low in calories, delicious, and inexpensive, you're going to want to make multiple trips to your local farm market to stock up on this amazing fruit.
Health Benefits
A medium apple with the skin contains about 80 calories, 20 carbs, 4 grams of fiber, 0 sodium, 8 mg of vitamin C, and 159 mg of potassium. This makes them a healthy addition to your lunchbox and/or a great choice for your mid-morning snack. No special prep needed, they come perfectly "pre-packaged."
Apples are a better-than-average source of fiber, but did you know they provide you with both of the types your body needs to function well? Pectin (present in the white part of the apple) is a soluble fiber that helps prevent cholesterol buildup in the lining of blood vessel walls. Insoluble fiber (located in the peel) provides you with bulk in your intestinal tract. That bulking action aids your colon in the quick movement of food through your digestive system. As well, apples provide many vitamins that you need daily, such as vitamin C (which boosts your immune system). And since apples are naturally sweet, they can help satisfy those sweet-tooth cravings. Last, but not least, they are low in calories and fat-free.
Varieties
Ohio has around 15 varieties of apples that range from sweet to tart, hard to crisp, and sour to spicy. Apples are grown in all 50 states and come in over 2,000 varieties.
You can choose to eat your apples raw, baked in recipes, made into a sauce, or preserved for later use.
Looking for something to make with your apples? Check out this list of recipes to see additional ways to incorporate apples into daily meals.
Are you an Ohio resident? Ohio Apples is a great resource to help you locate orchards throughout Ohio. You can search by region or by county.